You are visitor #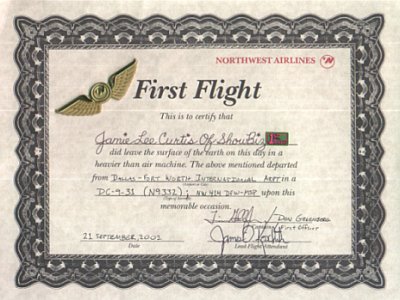 (September 21, 2002 - 8 x 10 Certificate)
Jamie Lee's "First Flight" certificate
Signed by the Captain, 1st Officer, and the Flight Attendant.
We were told that Northwest Airlines have
given these certificates out before, but never to a dog.
Not only did Jamie Lee receive this certificate
and ride up in the cockpit with the airplane crew the whole trip,
she sat on the 1st officer's lap (looking out the cockpit window),
and also received a new, over-sized, blue receiving blanket,
labeled "Made Exclusively for Northwest Airlines".
Guess that's why they call it VIP Pet Cargo,
and although the 1st Officer made it perfectly clear they just
couldn't see her down in the cargo area of the plane during her trip,
I still think they fell in love with her.
Can't imagine why!?!?!
Some folks feel the only way to prove a creature's worth is by showing them in the flesh, but this isn't always possible. For many years our family spent any free time available, campaigning our larger four-footed critters(at breed shows, open shows, and the fair) but now-a-days we're taking a back seat to all that and are just having fun, watching the larger ones become pasture ornaments and the smaller ones lap dwellers. The children are grown up, my husband has a full platter and I work in the medical field(most often w/overtime). All this cuts down on our free time, which prevents us the time it takes to travel and participate in any type of show, especially one that's located some distance away(some of the horse shows and all of the dog shows), so we've decided when time permits, we enter online shows, contests, etc..., and sometimes... we've been lucky enough to earn an award based on our site. Take a look!
We hope you're as happy as we have been, with the results.

---
(3rd Place - December 2003)
Viewer's Choice - 108 Votes
Christmas Pet Photo Contest
from Pets Place
(1st Place - January 2004)
262 Votes
Pet Photo Contest
from Calvin & Hobbes
(1st Place - January 2004)
262 Votes
8 x 10 Certificate
from Calvin & Hobbes
(January 2005)
Molly's Best Animal
Site Award
from Pupihood
Contact Information:

Kimerick Shih Tzu


Kim L. Morse
P.O. Box 284
Wadena, Minnesota 56482-0284
218-639-8931(Solicitors Not Welcome!)